As a business owner in the dog boarding industry it's really important that you are aware of pet boarding insurance needed to protect your business. Dog daycare, dog kennel, and pet boarding business insurance is important, but only if you have the right insurance. It's extremely important to have animal bailee insurance when you own a dog daycare business. The animals left in your care are your responsibility and if they were injured or died while at your pet boarding business then you will be responsible.
animal bailee dog day care insurance helps protect your business if an animal in your care suffers an injury, get sicks, disappears or passes away. When an animal is accidentally injury or gets sick, animal bailee coverage can help pay veterinary bills. It also helps  pay for advertising costs for the search and recovery of a lost or stolen pet. This also provides coverage if you need to move animals under your care to a temporary location or animal hospital.
 How does Animal Bailee Coverage apply to  Dog Boarding Insurance?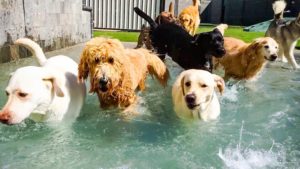 Lets face the facts. Our beloved four-legged friends can lack self control when they become excited in an environment that involves other dogs. In a situation where a dog accidentally runs into, slips, jumps or falls off a table, ledge or rock and needs to be transported to an immediate veterinary clinic, Animal Bailee Insurance would provide protection for the transportation and the medical bills that may follow the medical procedure.
In another example, if a dog in your care escapes its leash while you are walking it then bolts for the road and gets hit by a vehicle and seriously injured or killed, the animal bailee coverage would play a major role in the actions potentially taken by the owner.
 Why You Need Animal Bailee Coverage When You Own A Dog Boarding Business
We place emphasis on the importance of animal bailee coverage in the business owner's policy for Dog Boarding business owners. Animal bailee coverage will protect your business and the animals you work with.
Other Related Topics
To receive an insurance quote or get more information on animals bailee insurance, contact one of our pet business insurance specialist at (714) 695-1127 or through our contact page.